Surperior TAIWAN-ORIGINAL Quality
Jave Yuan, located in Taiwan is accessible to the world's professional technologies for plastic and metal treatments, world-class powerhouse engineer and the most stringent 3rd party testing.
Jave Yuan takes advantage of Taiwan's tech prowess and now becomes a one-stop cable solution provider.
In addition, Jave Yuan produces authorized 3rd party cables and offer flexible, customized solutions and direct applications to serve all customers.
All of our products meet their promised specifications and have been tested to exceed industry standards.
Quality System
1. Management System Jave Yuan is also committed to the sustainable management system and environmental protection proactively.
ISO 9001:2015 is certificed by SGS, and Jave Yuan now keep moving foreward to IATF16949.

2. UL Certified Broader UL certified product list for varied customers' inquiry from worldwide,
including cmmunication cable (UL444), Component Wire (AWM) , Power-Limited Circuite Cable and UL13 Type CL2/CL3 certificed products.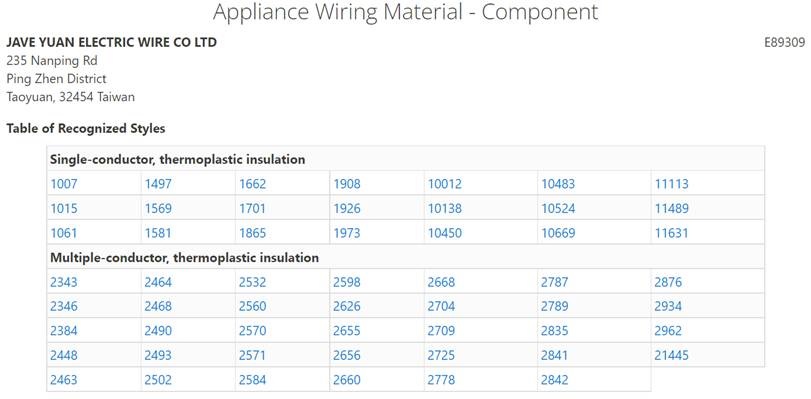 3. CPR Certified/CE Marking
European Construction Products Regulation (CPR) certified by British Approvals Service for Cables (BASEC) to prove our capability on factory control and produce design to pass strict regulations requirement.
Also, CE marking is an administrative marking with which the manufacturer or importer affirms its conformity with European health, safety,
and environmental protection standards for products sold within the European Economic Area.
4. D-U-N-S Certificate A data universal numbering system (DUNS) number is a unique, nine-digit numerical identifier that is assigned to a single business entity.
The DUNS number is the most widely used method for identifying companies in the United States.